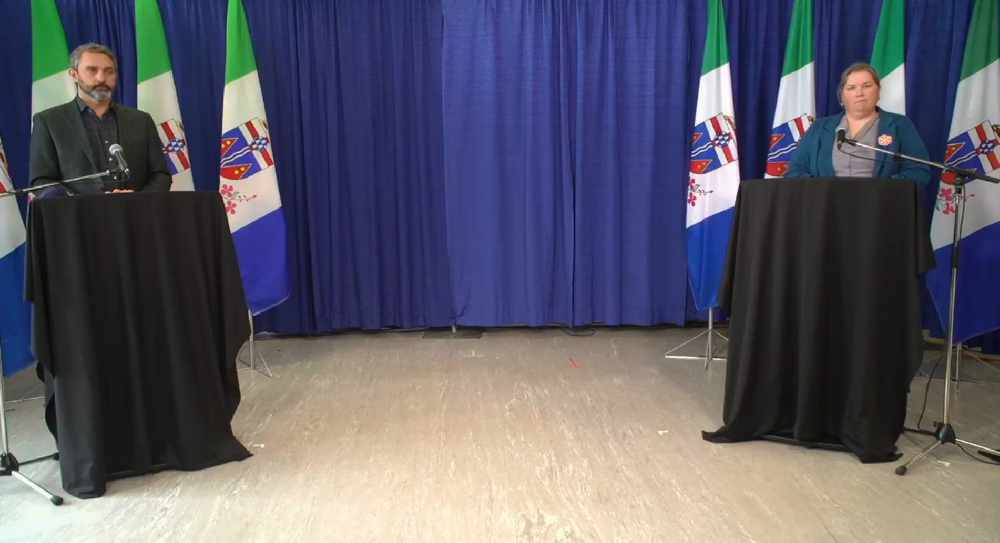 Premier Sandy Silver and NDP leader Kate White speak to media yesterday afternoon. (Facebook.com/yukonliberalcaucus)
The parties signed a Confidence and Supply Agreement yesterday afternoon.
The Yukon Liberals and the NDP have agreed to work together to support a Liberal government, by signing a Confidence and Supply Agreement.
"The way to moved forward is to work together, to collaborate, and we agree that compromise is important too, in those places that we differ. This agreement commits both of our caucuses to working together. There are provisions in this agreement that will bring NDP MLAs into government conversations on legislation and other issues that require joint efforts as well. And I look forward to this collaborative approach." Said Silver at a press conference yesterday afternoon.
The two parties agreed on some of the same issues when they were campaigning for the territorial election. As stated in the newly signed agreement, the Liberals and the NDP will work together to make democracy work for people, address climate change and protect the environment, create jobs and build a sustainable economy, improve services that people count on, and make life more affordable.
As part of the agreement, a special committee of the Legislative Assembly will be struck to examine electoral reform and bring recommendations to the Assembly for consideration. The committee will include an equal number of representatives appointed by all three caucuses and will report by March 31, 2022.
The agreement is in effect until January 31, 2023.