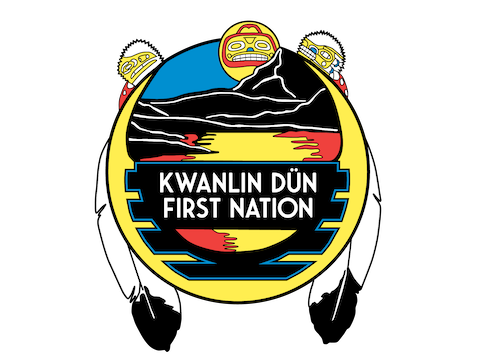 Kwanlin Dun First Nation will soon be home to 3 enhanced, culturally responsive and dedicated RCMP members. They will be stationed in the Mcintyre Subdidvision and work closely with the Community Safety Officers who currently patrol Kwanlin Dun settlement lands. The 2 constables currently based at KDFN have been operating under the former Aboriginal Community Constable program for the past 3 years. But a new deal was signed yesterday outside the Na'kawat'aku potlatch house.
Kwanlin Dun First Nation Chief Doris Bill and Sgt. Greg Holmberg, the Acting Officer in Charge of the Whitehorse RCMP Detachement, signed a Letter of Expectation, a document which will define and promote positive and cooperative relationships between KDFN and Whitehorse RCMP.
Christina Laing, Manager of Restorative Justice and Community Safety up at Kwanlin Dun, as well as the acting director of Justice there, says the Letter of Expectation is a historic document that will pave the way for an improved approach to community policing.
Lang says the four priorities in the LOE are communication, relationship building, KDFN Youth Partnerships and community safety.
The LOE will also provide policing priorities, goals and strategies that are specific to the needs of Kwanlin Dun First Nation. It is meant to be a living document and will be reviewed annually.