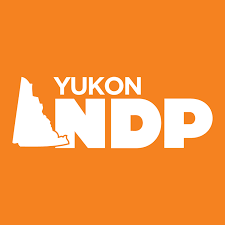 The NDP leader made announcement today calling on the Yukon Territorial Government to take further action to support Yukoners to ensure small businesses can weather the storm created by the COVID-19 pandemic.
White suggested the Yukon government could quickly implement similar programs as BC to provide relief for workers and tenants in Yukon in the form of a $500 rent subsidy. The Yukon NDP is also calling on the government to support Yukoners who live outside Whitehorse with the cost of food, suggesting a monthly payment of $100 to $200 per individual for as long as travel within Yukon is discouraged.
"The government is asking people to limit travel between Whitehorse and the communities. This travel limitation will mean extra food cost for many rural Yukoners but it's also an opportunity to support local businesses in the communities. We think providing financial support, encouraging people to stay in their community and shop in their local store is the right thing to do," said White.
The Yukon NDP is also appealing to the Yukon government to fill in the gaps left by the federal supports to businesses specifically targeted by public health measures.
Suggested supports for individuals include:
One-time $1,000 top up to all workers who qualify for federal Employment Insurance (EI) of the new federal Canada Emergency Response Benefit (CERB)
$500 monthly rent relief for tenants or equivalent program based on percentage of rent
$100 - $200 monthly food cost subsidy for Yukoners living outside Whitehorse
Suggested supports for small businesses include:
Grants to cover a percentage of fixed costs for small businesses directly affected by public health measures (personal service businesses, food service industry, tourism).
Targeted grants for micro-businesses (less than 10 employees) to cover a percentage of fixed costs.
Inclusion of personal service businesses and micro-businesses into Business Advisory Council
"Small businesses, the mom and pop shops, are the heart and soul of our communities. It's the restaurants, the art shops, the hole-in-the-wall places that will struggle most. That's where the Yukon government can step in and ensure these shops can survive and help our community thrive when they can resume operations," said Yukon NDP Leader Kate White.