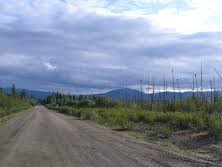 Image Source: Google Images
The Government of Yukon and the Liard First Nation have reached a deal to upgrade parts of the Robert Campbell Highway. The project is estimated to cost $50 million.
Liard First Nation Chief George Morgan says LFN citizens need the economic boost from the work and that the deal has been a long time coming.
Morgans says the road from Ross River south is in rough shape right now, and that LFN will use their revamped development corporation to seek work.
This is the fourth agreement reached as part of the 468 million dollar Yukon Resource Gateway Project. LFN was also involved in the Nahanni Range Road Project.
Energy, Mines and Resources Minister Ranj Pillai says the First Nation will be playing a large role in the planning, design, assessment and regulatory processes for the upgrades to the highway. Pillai says the deal includes consultation in the development, environmental assessment and regulatory aspects of the proposed upgrades to the Robert Campbell Highway.