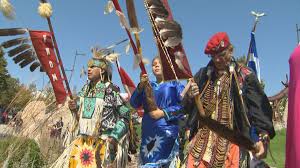 copyright GlobalNews
A First Nation in Manitoba will be holding its annual powwow in June, even if public health orders limit the size of public gatherings in the province to 50 people.
'It is our culture': Manitoba First Nation going ahead with powwow amid coronavirus, chief says
Lake Manitoba First Nation Chief Cornell McLean says leadership made the decision to go ahead with the powwow after careful consideration.
He says it will bring healing to the community, which has been struggling after months of restrictions due to COVID-19.
Ottawa says it's ultimately up to First Nations leaders to decide if cultural practices will be held.
Manitoba Health says Indigenous ceremonies need to happen within current public health recommendations.
Assembly of Manitoba Chiefs Grand Chief Arlen Dumas says governments need to be flexible to ensure that First Nations can continue traditions while keeping people safe.