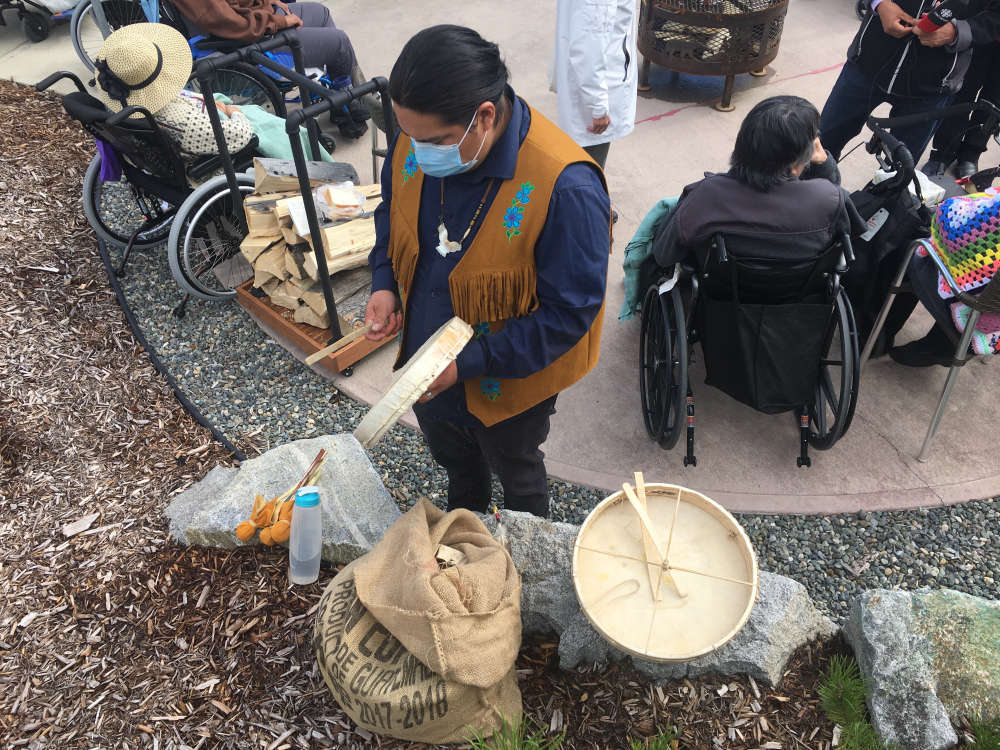 Dorran Fox unpacks drums at Whistle Bend Place in Whitehorse.
Fox says delivering the drums was exhausting, but in a good way.
Kwanlin Dün First Nation drum maker Doronn Fox spent yesterday afternoon delivering drums to long term care homes in Whitehorse. Each facility got three ceremonial drums and three handgame drums. Fox says when he was asked by a friend who works at Copper Ridge place to make the drums for Elders, he offered to do the work for free, but the long-term care facilities insisted on paying him.
Each of Whitehorse's three long-term care homes held a reception ceremony to accept the drums. Fox says the day was tiring, but in a good way. He also says it was personal, he has family at Copper Ridge Place.
"When I was up at the Copper Ridge Place, it was exhausting, because I got there and I was all happy go lucky and good, and then probably about 15, 20 minutes in, I started feeling heavy, because it reminded me of some of my Elders that taught me a lot in my life, "says Fox.
"You can feel the energy there, and it's not that it's a negative thing, it's just that you feel it, and I have to go deal with it myself. I've got to do some ceremony and work it out and I'm at a sensitive place right now, providing these things for people that I love."
The drums were left blank so that residents can decorate them and make them fancy by adding beads and feathers.
Fox says he hopes Elders will pick up the drum when they are feeling emotional and use them to connect to themselves, talk to their ancestors, and feel closer to home.