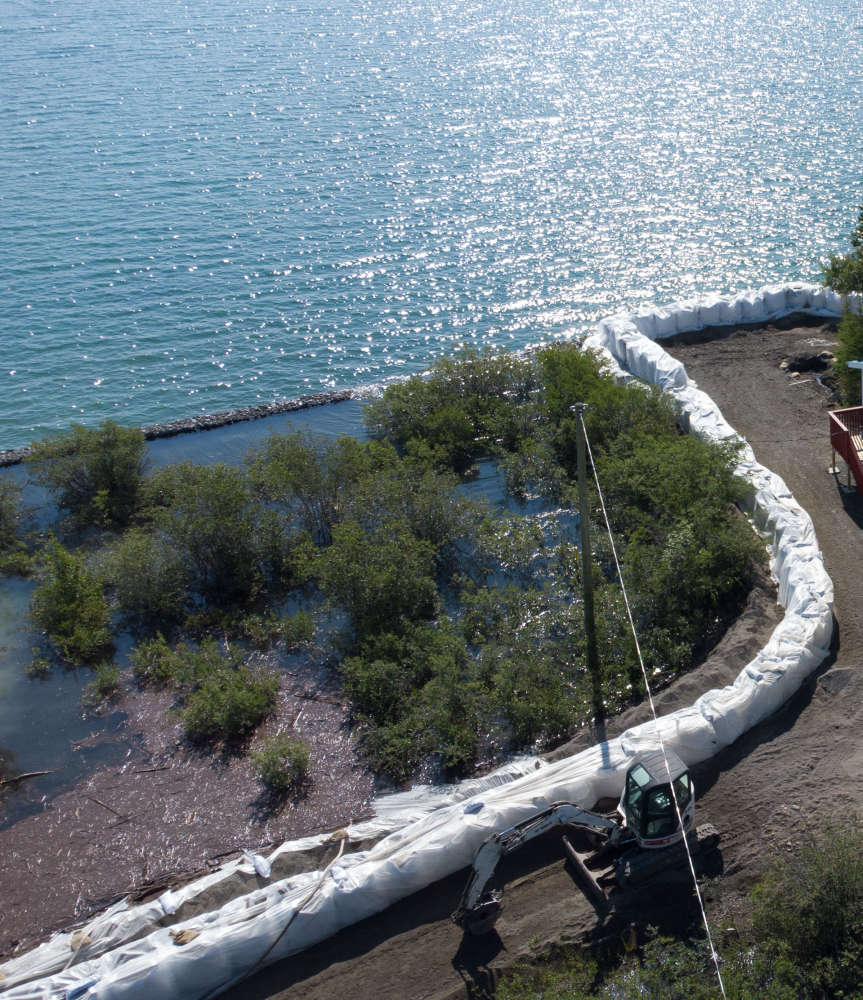 Superberm holds back the water at Army Beach (Photo: Government of Yukon)
There are currently 230 personnel on the ground.
The Yukon is still dealing with flooding across the territory but water levels in the Southern Lakes are dropping and are now about seven to nine centimeters below the peak from earlier this month.
Lake Laberge is currently sitting at about 39 centimeters above 2007 flood levels but it has been going down since Friday.
Water levels in the Southern Lakes and Lake Laberge are expected to remain high for the next little while but should continue decreasing. Government of Yukon Senior Hydrologist Holly Goulding says significant rain fall over 10 millimetres could cause the lakes to rise again, but it is looking like precipitation for this month will be lower than average.
Government of Yukon Flood Liaison Mark Hill says they are extremely happy with mitigation efforts, though they are seeing ground water seepage, septic fields and wells impacted, and some homes with water in crawl spaces.
An incident management team was formed last month and Hills says it has since turned into the largest flood mitigation effort in Yukon's history.
There are currently 230 personnel on the ground including one hundred soldiers from the Canadian Armed Forces and seven flood specialists from Manitoba. A military relief team is expected to tag out soldiers tomorrow.
Over a million sandbags have been used so far and more are on the way. Crews have been hard at work putting up berms and even bigger superberms.
Emergency Measures Organization Director Diarmuid O'Donovan says the support of Yukoners is what allows teams to keep their cool when dealing with the situation.
"We've had tremendous support from volunteers, community organizations, as well as across government, and have been assisted by partners from other jurisdictions like Manitoba, Saskatchewan, Alberta, and our federal family, but I think the strong sense of community here is what made this a challenge that people looked up to and said 'yeah, we'll take that on and make it happen',"
The state of emergency for the Southern Lakes, Lake Laberge, Marsh Lake, Tagish Lake and Kusawa Lake, which was declared earlier this month, remains in effect.