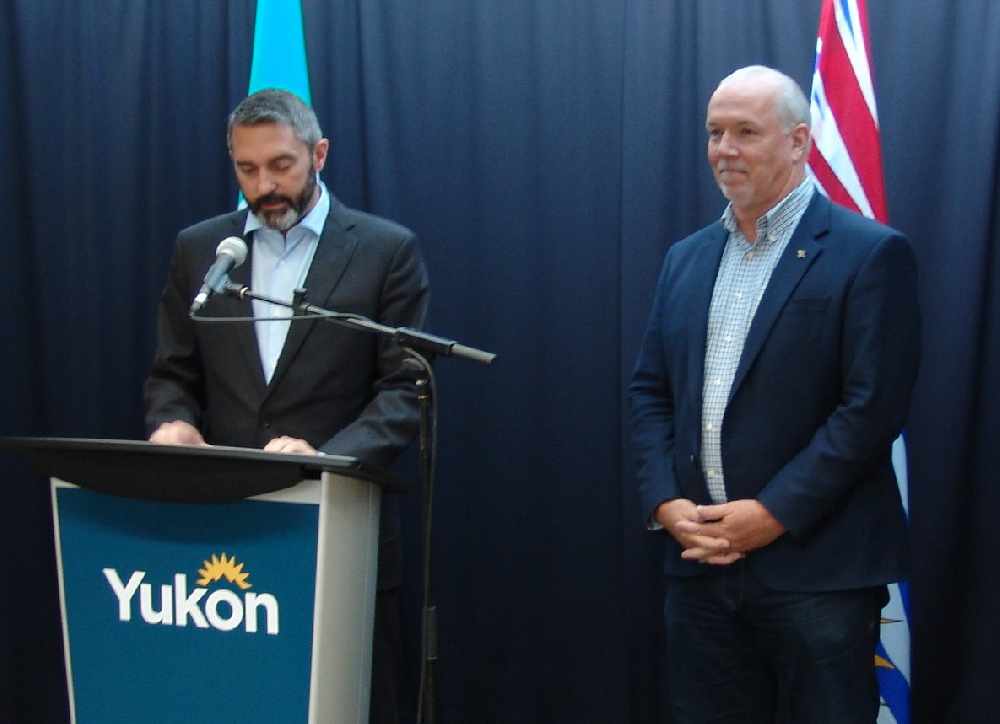 John Horgan, Premier of British Columbia with Sandy Silver, Premier of Yukon
John Horgan, the Premier of British Columbia was in Whitehorse on Monday for the first time. He spoke with Premier Sandy Silver and other community leaders about daylight-savings-time, Indigenous Trans-border issues and a utilities corridor, before travelling to Lower Post on Tuesday.
John Horgan, the Premier of British Columbia was in Whitehorse on Monday to speak with Premier Sandy Silver, First Nations governments and business leaders about Indigenous trans-boundry issues and other concerns common to both jurisdictions.
Day-light savings time was one of the topics discussed. Another area of common interest is a utility corridor between Yukon and BC. The Premiers are looking at the possibility of connecting Yukon's isolated electrical grid to British Columbia.
Indigenous Trans-boundry issues have been a long-standing concern for First Nations along the west coast of North America. The issue spans international borders and the two Premiers want to tackle the issue with a united voice.
Both Premiers touted the excellent working relationship that has developed and are looking forward working together on common goals.
Premier Horgan said Indigenous Trans-boundry issues was his first priority for his first visit to Yukon and on Tuesday traveled to Lower Post, which is barely 10 kilometers south of the Yukon BC boundry.
Premier Horgan also paid a visit to a former residential school near Lower Post and took part in a community feast.
Listen to the CHON FM Newscast