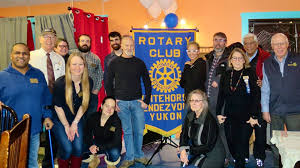 The 2020 Rotary Wine and Fine Food Festival which was scheduled for October 22nd in Whitehorse has been cancelled.
The annual festival is the single largest fundraising event for the Rendezvous Rotary club, raising about $35,000 for community service projects.
Anne Kennedy Chair of the Rotary Wine Festival said in a statement, "Our Rotary club has made the very difficult decision to cancel this year's event because of the COVID-19 pandemic. October may seem far away but planning for the event begins nearly a year ahead and we regretfully needed to decide this month to cancel."
The event draws over 400 participants, along with 20 to 30 representatives from British Columbia and Alberta wine agencies. It is held at the Yukon Convention Centre at the Coast High Country Inn in Whitehorse.
"Our board believes we have made the right decision to protect the health and safety of festival patrons, volunteers and visiting wine agents," said Kennedy. "There are too many uncertainties about the size of group gatherings, physical distancing, travel restrictions and quarantine requirements that could still be in place in October to safely host the event."
This year would have been the 29th consecutive year for the wine festival. The club uses the funds raised at the event to support numerous local and international community service projects such as the nine-seater van for the Fetal Alcohol Syndrome Society Yukon (FASSY).
Rendezvous Rotary Club is planning for next year's wine festival on October 21st, 2021.