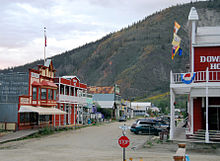 The mayor of Dawson says now that  restrictions have been lifted on non-essential intra-territorial travel, it may be a good mental health break for Yukoners to travel to other communities and visit friends.
In an open message to all Yukoners sent over the weekend Wayne Potoroka says visiting must be done respectfully and by following the chief medical officer of healths' guidelines regarding responsible travel through rural communities.
Potoroka says some people in communities have been virtually locked down for 2 months.
In the letter also signed by the chief of the Trondek H'wechin First Nation Roberta Joeseph, Potoroka says Yukoners look after each other regardless of what community they live in or come from.