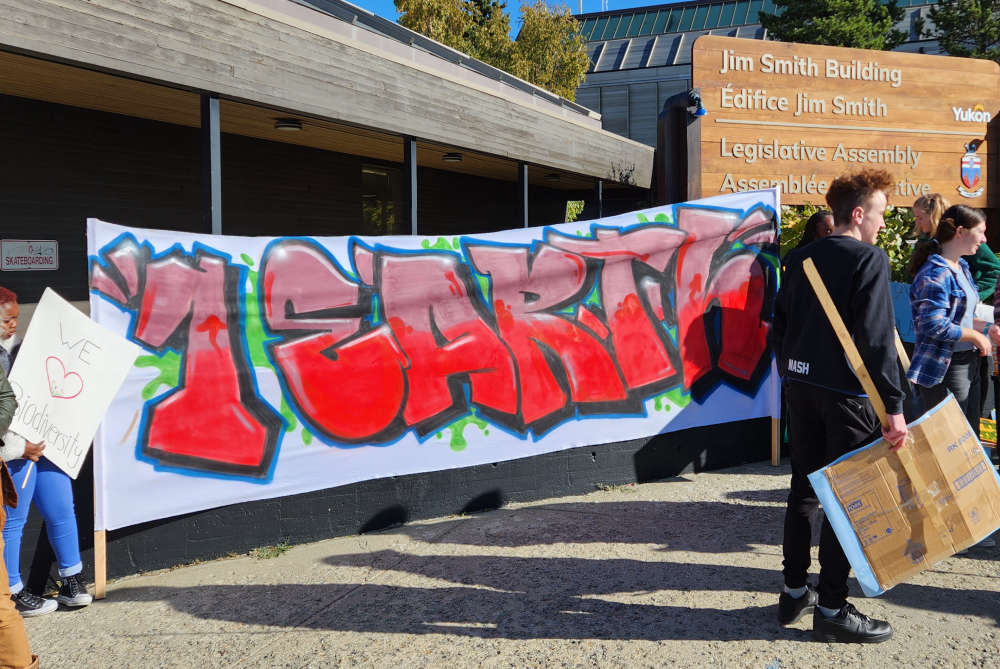 A banner at Friday's climate change protest reads "1 Earth" outside the Jim Smith Building (Photo: S. Bonell)
Three grade 12 students from F.H. Collins Secondary School lead the protest on Friday.
Young climate activists lead a climate change protest Friday afternoon. Keegan Newnham-Boyd, a grade 12 student at F.H. Collins Secondary School in Whitehorse, is one of the Fridays for Future Yukon organizers who led the protest outside the Jim Smith Building. He said that the importance of fighting climate change seems to be universal among protesters in the Yukon.
"We all want a future, right?" said Newnham-Boyd. "[…] We want things to stay the same as they are."
Fridays for Future Yukon wants to bring Indigenous ways of knowing and doing to the front of the climate change discussion. Newnham-Boyd says that listening to First Nations who have lived on this land for so long without being destructive is just common sense.
"Especially in the Yukon, we have a source of information from people who have known what this environment has looked like for centuries, you know?" said Newnham-Boyd. "Far longer than a lot of other people have been here."
"We need to acknowledge the science. We need to use technology to […] move past our current technology. […] But we can also take some of this traditional knowledge and really understand some of these ways that people have spent perhaps thousands of years avoiding destroying this place."
As a vocal leader for the local climate group, Newnham-Boyd thinks that a future of fighting climate change would suit him just fine.
"A lot of people, especially in my sort of age group, are definitely considering that, in what they're moving towards after high school."
"They're like, 'hey, wait a minute: I want all this stuff to be around when I'm forty, so what can I do to make sure [that] it's around when I'm forty?'"
Although Friday's protest made it clear that inaction against climate change will be devastating to the planet, it appears that the future of climate science and activism in the Yukon is in good hands.