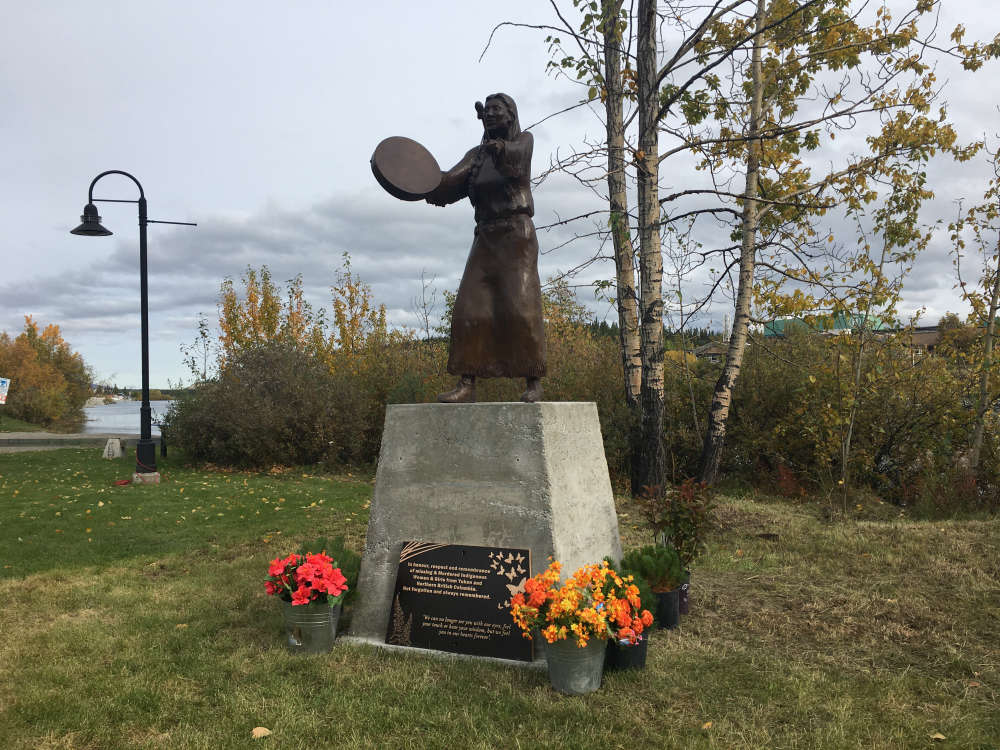 The new statue is located on the Millennium Trail near Rotary Peace Park.
"They will be loved forever," says public commemoration ceremony MC Christine Genier.
Red dresses lined the millennium trail in Whitehorse today as about 100 people gathered for the public commemoration ceremony for the Finding Peace Monument honouring Missing and Murdered Indigenous Women and Girls and Two-spirit plus in the Yukon and Northern B.C.
"They are loved and they will be loved forever," says event MC Christine Genier.
The bronze-coloured statue made by Dawson artist Alain Derepentigny is of an Indigenous woman in a dress beating a drum.
It's a project that's been in the works since 2019, and it's a collaboration between the Yukon Aboriginal Women's Council, the Whitehorse Aboriginal Women's Circle, the Liard Aboriginal Women's Society, Kwanlin Dun First Nation, the Teslin Tlingit Council, MMIWG family members, the City of Whitehorse, and the government of Yukon.
"You can tell a lot about a culture and a place by looking at it's monuments. Who is chosen for commemoration? Who is selected to stay in our collective memory? In many cases we see men. Mostly white. Mostly settlers," says KDFN Chief Doris Bill.
"I am heartened to see this changing, to no longer stay out of sight and out of mind. Our people deserve this recognition."
The statue was officially unveiled yesterday to family members of those missing and murdered.
The advisory committee for the project hopes the statue will be a place of peace, comfort, healing, hope, and resilience.