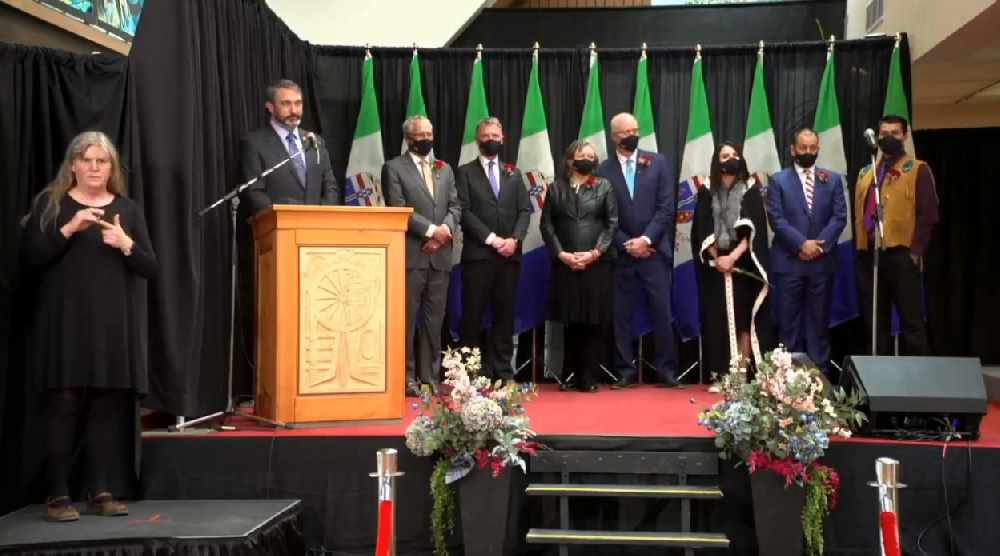 Premier Silver and his cabinet at yesterday afternoon's swearing in ceremony.
We now know who will be doing what in the Yukon's government.
Premier Sandy Silver and his cabinet were sworn in as the territory's government yesterday afternoon by Commissioner of Yukon Angélique Bernard.
"I have confidence in this team of individuals and am excited to get back to the work of governing to improve the quality of life for all Yukoners. Our experience working together in government only makes us stronger and that groundwork has provided a stable foundation to push onwards. I look forward to collaborating with all MLAs; I know we can work together to do great things for the Yukon." Said Silver in a statement.
As well as being the Yukon's premier, Silver is taking on the role of Minister of the Executive Council Office and Minister of Finance.
Tracy-Anne McPhee is the territory's the Deputy Premier, Minister of Justice, and Minister of Health and Social Services.
John Streicker is taking on five portfolios as Minister of Energy, Mines and Resources, Minister responsible for Yukon Development Corporation, Minister responsible for Yukon Energy Corporation, Minister of the Public Service Commission, and Minister responsible for French Language Services Directorate.
Ranj Pillai is the Yukon's Minister of Economic Development, Minister of Tourism and Culture, Minister responsible for Yukon Housing Corporation, Minister responsible for Yukon Liquor Corporation, and Minister responsible for Yukon Lottery Commission
Jeanie McLean has taken on the job of Minister of Education and Minister responsible for Women's Directorate.
Richard Mostyn is the Minister of Community Services, and Minister responsible for Workers' Compensation Health and Safety Board.
And Nils Clarke is the Minister of Highways and Public Works, and Minister of the Environment.