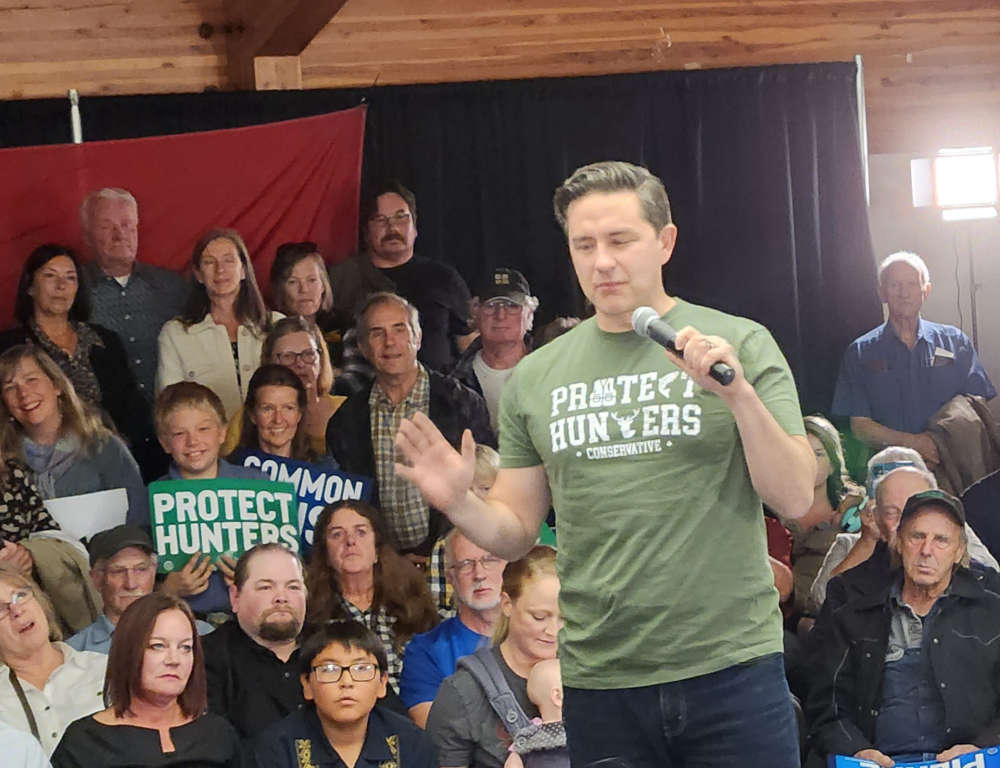 Federal opposition leader Pierre Poilievre speaks to his supporters in Whitehorse at his Axe the Tax rally, sporting new merchandise that reads "Protect Hunters" (Photo: S. Bonell)
The federal opposition leader spoke to hundreds of supporters regarding housing, carbon tax, and hunting rifle ban concerns.
Federal opposition leader Pierre Poilievre visited the territory for a rally in Whitehorse on Friday. Hundreds of Yukoners in support of the Conservative leader were in attendance, cheering as he reiterated his so-called "Common-Sense" campaign talking points. At the top of the agenda was his plan to "Axe the Tax," referring to carbon taxes on fuel.
"Well, Yukoners feel under attack by the Trudeau government, which is bringing in a massive carbon tax," said Poilievre in an interview with CHON-FM. "It's already at 14 cents a litre but is scheduled to go up to 61 cents a litre. That'll raise the gas, the heat, and obviously, the grocery bills. Because we tax the fuel of the farmer who makes the food, and the trucker who ships the food; you tax the food itself. [A] Poilievre government will axe the tax to bring home lower prices."
Poilievre also took shots at Bill C-21, which largely examines firearms licensing. He claimed the bill was Prime Minister Trudeau's attempt to ban hunting rifles.
Later at the rally, Poilievre discussed his plan to build and make affordable housing more openly available to Canadians. He claimed that Canada has the fewest homes per capita of any country in the G7. While 80 per cent of Canada's landmass is uninhabited, 24 per cent is covered by mountains, and 40 per cent is covered in forests. Those numbers aside, one part of Poilievre's plan involves incentivizing building permits to build more homes.
"I will require all cities boost permits by 15 per cent per year, or uphold their federal grants," said Poilievre at his Axe the Tax rally in Whitehorse. "But those that beat the 15 per cent target will get a building bonus, so that they will be incentivized to get out of the way and let builders build. If we increase homebuilding by 15 per cent per year at a compounded rate, we'll be doubling the housing construction within 5 years."
"[…] And we'll sell off six thousand federal buildings to convert those into new housing. We'll use the proceeds of the sale to reduce our deficits. Selling off those buildings; you know, it might sound like a boring, managerial thing. But it warms my heart to think of the wonderful family pulling up in their U-Haul to move into their new home in the former headquarters of the CBC."
That shot at the CBC wasn't his first of the night. While Poilievre didn't discuss any solid plan to defund the public broadcaster on Friday, the reaction from his supporters made it clear that they would likely support the move.
Poilievre's campaign tour continues this month with fundraising events in Ontario.