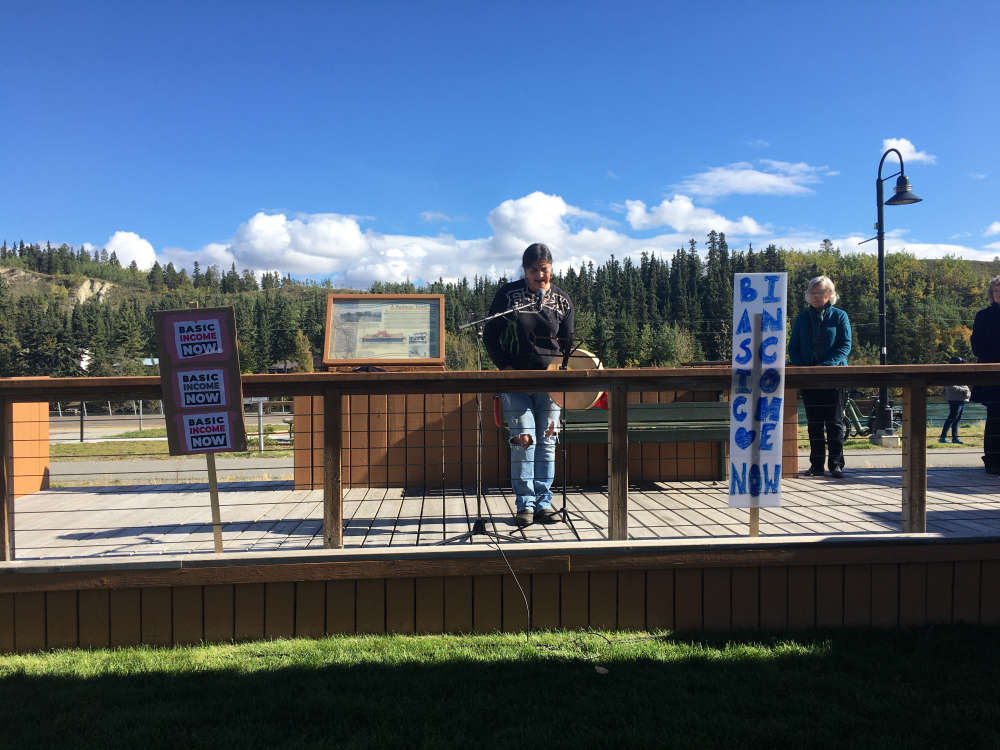 Viola Papequash of the Rising Sun Singers closes out the demonstration with a song.
"If we had income security, at least my kids could eat," says one Vuntut Gwitchin citizen.
Dozens of people rallied together in downtown Whitehorse at the riverfront yesterday to voice the need for basic annual income in Canada, as part of a demonstration put on by the Yukon Anti-Poverty Coalition. They say basic annual income would help people who are struggling with poverty meet their basic needs. It would also mean those who usually rely on social assistance wouldn't have to ask for money or prove that they need it by providing bank statements.
"It could eliminate a lot of systematic racism," says Yukon Anti-Poverty Coalition co-chair Charlotte Hrenchuk.
In 2017 Ontario launched a basic income pilot project that provided low-income people with just under $17,000 a year, or a little over $24,000 for couples. The project was cut short in 2018 when Doug Ford scrapped it.
Yukon's Senator Pat Duncan spoke at yesterday's demonstration. They say testimonies they heard from those who participated in the Ontario project have convinced her that Canada needs basic annual income.
Shawn Bruce is a Vuntut Gwitchin citizen from Old Crow. He was listening to speakers from the crowd when he felt compelled to step in front of the microphone. He says climate change is affecting traditional ways of life, but a basic income could help.
"We can not fish. We can not hunt moose. We can not get our caribou. What are we to do? I am here with a humble heart right now, to tell you that my First Nations people are struggling. If we had income security, at least my kids could eat," says Bruce.
Bruce says in Old Crow the price of food is too much. He says a bag of flour is $95 and a bag of sugar can cost as much as $100.
The Anti-Poverty Coalition says details like how much money people would get and where it would come from would have to be ironed out by the government, but the Canada Emergency Response Benefit that was given to people that lost income because of COIVD-19, is a good indication of what basic annual income could look like.
They say the event was all about getting the dialogue started.