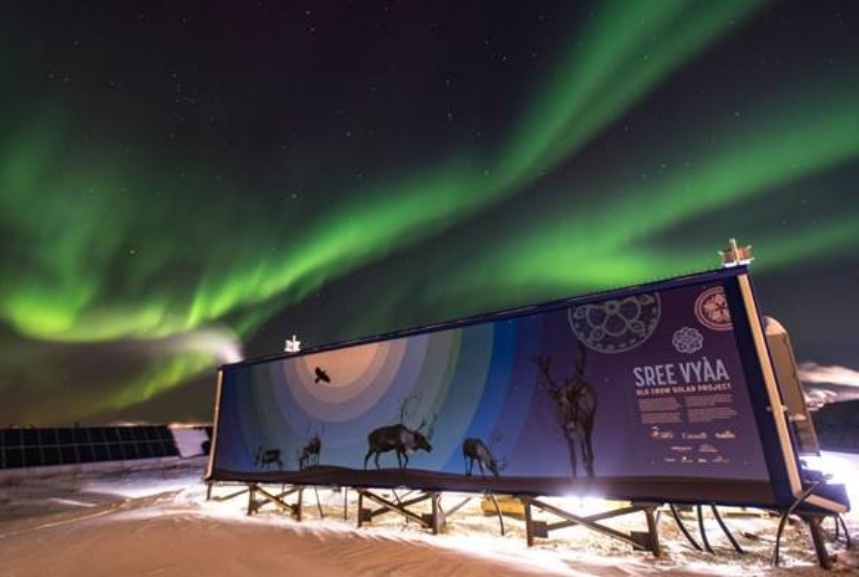 The Old Crow Solar Project (Photo: Paul Joise/Josie's Old Crow Adventures)
The solar array is currently operating at 12 per cent capacity.
Old Crow is going green.
The Old Crow Solar Project is now generating power for the community after achieving stage one of the project. On sunny and cloudy days, energy is being produced for more than 14 hours and even more will be produced as the days get longer.
The solar array is operating at about 12 per cent capacity, to avoid disruptions to the stability of the Old Crow electrical grid.
Once fully operational, the project will reduce the amount of diesel fuel used for power generation in the community by 190,000 liters each year, cutting annual carbon dioxide emissions by 750 tonnes – the equivalent of taking 160 cars off the road.
ATCO Electric Yukon has a purchase agreement with Vuntut Gwitchin First Nation to buy electricity generated at the solar facility, which means more revenue for the community.
Workers will be headed to Old Crow for phase two of the project, which includes installing a battery energy storage system and a microgrid controller, which will increase power output.