Ben Charlie
Ben Charlie, is the host of "Gwitchin Afternoon" and "Saturday Request Show" on CHON-FM.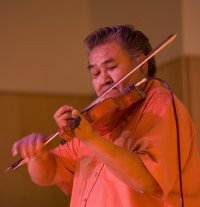 You can reach Ben by email: benchuck@chonfm.com
Mon

Sunny intervals

-11°C

Tue

Sunny intervals

-15°C
Totally Arctic Wrestling Kicks Off In Inuvik

Yes pro-wrestling has officially kicked on in the Arctic. Used to be you would have to hoof it down south to take in a bout of good old-fashioned wrestling, but thanks to the organizers and performers at Totally Arctic Wrestling (TAW), some of the best Full Nelsons and Diving Headbutts are actually found by going farther north.

Council of Yukon First Nations Announces $4.4 Million Nutritional Program in Rural Communities

Children and youth in Yukon First Nations rural communities are set to have access to two meals a day, five days a week thanks to a new initiative launched by the Council of Yukon First nations (CYFN) today. The announcement from Grand Chief Peter Johnston and Executive Director Shadelle Chambers outlined the aims of the new program and how the funding through Jordan's Principle, approved by Indigenous Services Canada, would be put to use.

Women Entrepreneurship Knowledge Hub Launches in Whitehorse

The Innovation and Entrepreneurship group at the Yukon College officially launched the Women Entrepreneurship Knowledge Hub (WEKH) at the Yukon College Northlight Innovation building in downtown Whitehorse. The hub is one of nine across Canada but is the only one in the territories and is aimed at aiding female business owners, or women interested in starting a business anywhere in the territory.