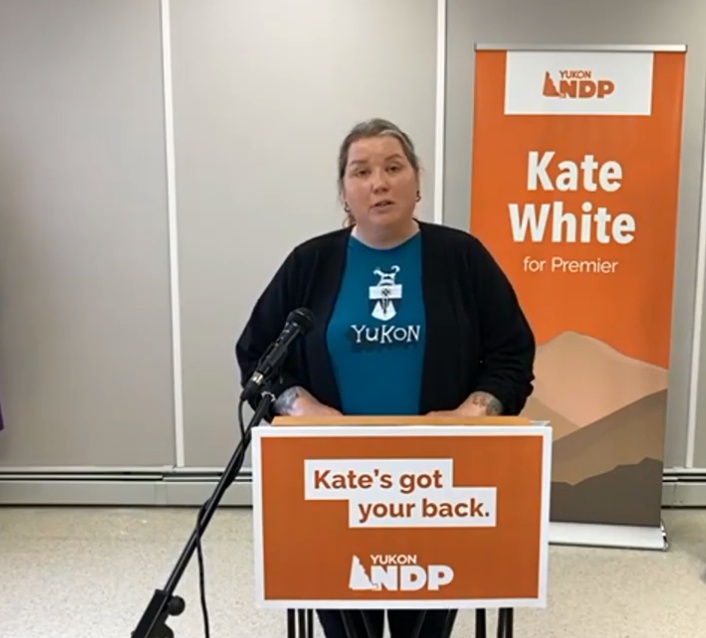 NDP leader Kate White speaks to media to announce her party's plan for education in the territory.
Here's the scoop on what went down in Yukon politics today.
The Yukon Party has released their Wildlife Management Platform.
The party says their platform will respect the Umbrella Final Agreement.
In a press release this morning, the party said, if elected, they will direct funds collected from licenses, fees, and seals to a newly created Conservation Partnership Fund for habitat and ungulate enhancement and wildlife population support.
The fund would be available to non-governmental organizations, renewable resource councils and other conservation organizations and once created, a Yukon Party government would work with all interested parties to review the fee structure.
The party also says they will Increase funding and resources for wildlife surveys and data collection to ensure that decisions are based upon the best, most recent available information. As well, they will Institute a mandatory review of any new zone closure, restriction, or other regulation amendment which reduced hunting opportunities for Yukoners once the management action has been taken to ensure that restrictions do not necessarily become permanent and place onus on the territorial government to demonstrate if, and if so how, they are working.
The release also says that a Yukon Party government will immediately re-build and repair the relationship with the Yukon Fish and Game Association to restore the 25 per cent funding cut implemented in 2020, ensure that no future funding agreements contain "gag orders" upon any organizations as proposed by the current government, and work with the association to establish a long-term partnership, in order to provide stewardship and leadership programs for Yukon youth and women and provide access to land for outdoor recreation camps.
Later in the afternoon, the Yukon Party issued a press release saying, if elected, they will fully privatize the cannabis sector, removing government from sales and distribution.
The Liberal Party has announced their plans to support farmers and local food production in the territory.
In a press release from this morning, the party says a re-elected liberal government will establish an internal Yukon government task force that will work to maximize local food purchases through government procurement.
They will also work with the Yukon Agriculture Association to make sure they have resources to advocate the right to farm.
As well, they will develop and release land parcels suitable for agriculture and work with Yukon's livestock producers to support increasing demand for meat products.
This morning NDP leader Kate White alongside Riverdale North candidate Vanessa Thorson and Riverdale South candidate Jason cook announced their plan to improve education in the Yukon if they form the next government.
"I'm going to hire 50 more learning assistance teachers and educational assistants to support teachers. We know that this is going to increase the amount of attention that all students receive and provide additional supports to students with special needs. I'm also going to work to make sure there is a mental health worker in every school. Which will give parents and students confidence that they'll have a place to turn when the need arises. My vision for education includes a system where there are choices, options, and opportunities." Says White.
White also says her party will look into opening additional French emersion spaces in Whitehorse to reduce the number of students currently on a waitlist.
The territorial election will take place April 12th.